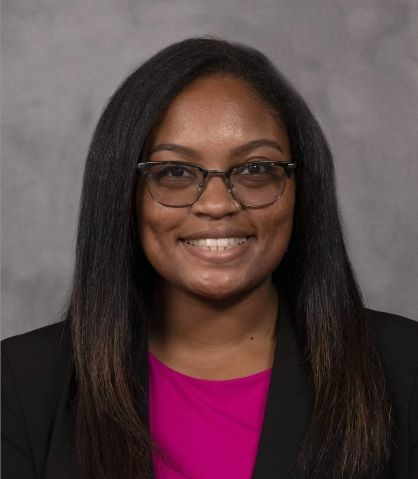 For decades, AmeriCorps alumni, members and volunteers have become the next generation's thought leaders, innovators, and change-makers in global corporations, national social good organizations, the legal field, and public service fields.
AmeriCorps Week (March 12-18) is a dedicated time each year that the Illinois Bar Foundation celebrates and thanks AmeriCorps alumni, current members, and volunteers in its Illinois JusticeCorps program. This year, we are highlighting a 2021-2022 alum, Ayanna Squires from Will County who is pursuing her law degree because she wants to uproot the barriers to justice in the legal system.
Current Will County Fellow, Alex Wilson, met with Ayanna Squires, a former Illinois AmeriCorps-JusticeCorps member who served from August 2021 – August 2022 at the Will County Courthouse. We were honored with Ayanna's time to discuss life after AmeriCorps-JusticeCorps.
Ayanna graduated from Lewis University in May of 2021, where she majored in Criminal Justice and minored in Paralegal Studies and Public Policy. After graduation, she wanted to heighten her legal experience during her gap year. As a volunteer at the Will County Courthouse during her senior year with the Will County Justice Access Corps (WillCoJac) she learned about the AmeriCorps-JusticeCorps program. WillCoJac is a complementary volunteer program with Illinois JusticeCorps whose purpose also is to assist the self-represented litigant with their legal work in the courthouse.
Today, Ayanna is a 1L at Northern Illinois University College of Law and has continued to pursue the route of public interest law. She stated that Americorps-JusticeCorps helped her learn how marginalized and communities of color receive less access to resources within the legal system. Her goals for the future of her career go hand in hand with the AmeriCorps-JusticeCorps slogan for this program which is access to justice. Ayanna wishes to uproot this lack of access by furthering access to justice principles throughout her work after law school. After law school Ayanna plans to return to Will County to practice law. Ayanna exclaimed, "I love the community within Will County, and I was fortunate enough to receive a scholarship that allows me to practice there upon graduation."
Lastly, Ayanna was asked if she could tell a person who is interested in joining AmeriCorps-JusticeCorps, what would she tell them? Ayanna stated that people should use this opportunity to figure out what their passions are and how they can use what they learned during their service in the next stage of life.
All of us at AmeriCorps-JusticeCorps wish Ayanna the best of luck on her endeavors ahead as she is going to be a Judicial Intern for a judge at the United States District Court for the Northern District of Illinois.
Back to Stories & News