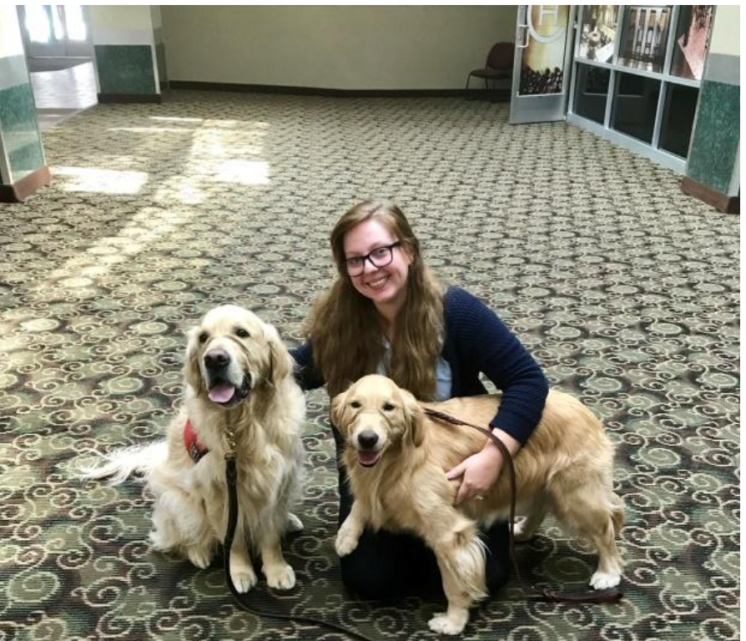 Celebrating AmeriCorps Week March 13-19, 2022
AmeriCorps Week is a time to recognize the commitment of the millions of Americans who have chosen to serve their country through AmeriCorps and to highlight the impact these members have in our community. Illinois JusticeCorps, an AmeriCorps funded program, is administered by the Illinois Bar Foundation in partnership with the Chicago Bar Foundation (CBF) and the Illinois Supreme Court Commission on Access to Justice. This year, we would like to highlight Illinois JusticeCorps' and the CBF's newest staff member Mercedes Boykin. Read about her AmeriCorps journey below.

My Journey Back to Illinois JusticeCorps by Mercedes Boykin
I am someone who tends to find themselves sitting on the fence. I never knew what I wanted to do with my life and with my career. I had a vision of wanting to help others but what does that truly mean? 
So many careers can allow us to "help others." I find that baristas always help me. Nothing is better than a hot, soothing cup of caffeine juice. I have been a barista for many years, and I firmly believe that baristas work every day to help and heal others through their interactions with their customers and the heavenly coffees they create.
But that is not what this post is about. 
As far back as I can remember, I wanted to be able to help others. I wanted to be a doctor or a lawyer or a musician or even the President. Some careers were a bit more realistic than others (my singing abilities are not great.)
I went through my life on the fence of what I wanted. 
I went to Rockford University for my undergraduate degree. In college I did change my plan a couple times while trying to discover my passions.  However, after learning that chemistry and I are not friends, a bio-chemistry major to become a physical therapist was a hard pass. I ultimately double majored in Psychology and Sociology with a concentration on Criminal Justice. The legal and criminal justice systems intrigued me. This was when I decided I wanted to pursue higher education in one of these fields. 
Upon graduation, I found a flyer for Illinois JusticeCorps. I learned that Illinois JusticeCorps is an innovative AmeriCorps program. For those who do not know, like I once did not, AmeriCorps is the federal agency for volunteerism and national service whose mission is to improve lives, strengthen communities, and foster civic engagement through service and volunteering. The flyer offered me an experience to learn how the courthouses operate and an opportunity to work with self-represented litigants who need help with their cases. This was exactly what I needed to really find out if this is the career path for me. 
I applied and was eventually placed in the Winnebago County Courthouse in Rockford, Illinois, as a JusticeCorps Fellow. My experience was exactly as described. I spent a year of service helping self-represented litigants who were confused and unsure how to navigate the court system.
My year of service pushed me to attend law school.
In August of 2018, I attended Northern Illinois University College of Law. Upon graduating in May of 2021, I was back up on that fence. Now what? What career do I want with my law degree? Do I want to work for a law firm? Do I want to be a trial attorney? 
It was a struggle to figure out what I wanted and where I belonged after law school. I began the dreaded job search and applied for a wide range of careers I thought I would enjoy.
However, sometimes the best opportunities come directly to us… into our email inbox. 
I received an email for a job posting. This job posting was none other than the Program Manager for Cook and Lake County Position for Illinois JusticeCorps. 
I immediately knew I wanted this position, and this is where I felt I belonged.
This email flew at me like a giant bird and knocked me off the fence. I magically landed right at my laptop filling out the application. I know it sounds far-fetched but I assure you all stories in this post are true. Giant birds, magic, and all. 
I was ecstatic when I received the job offer. I felt like it was just meant to be. I was happy being at the next part of my journey with Illinois JusticeCorps. 
The work that Illinois JusticeCorps does is so meaningful and important to the communities it serves. It helps others in some of the hardest times of their lives and gives self-represented litigants a peace of mind that someone is here for them. Someone wants to help them and guide them through the confusion that we call the court system. It is exactly what I want to do and where I want to be. That fence is no longer there… the giant bird may have also knocked over the fence. 
This week is AmeriCorps Week and during AmeriCorps week we recognize the commitment of the millions of Americans who have chosen to serve their country through AmeriCorps and AmeriCorps Seniors and encourage more Americans to follow in their footsteps of service.
We are thankful for all the hard work by so many and are confident national service is ready to meet the moment and continue to help make an impact.
I am proud to be an AmeriCorps member and ask you to celebrate AmeriCorps week with me and all the other hard working AmeriCorps members. 
Back to Stories & News