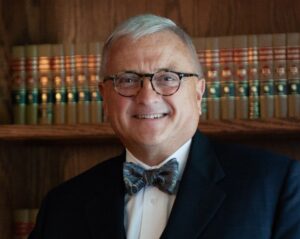 Since it was established in 1951, one of the primary missions of the Illinois Bar Foundation has been to assist our fellow lawyers who have, through illness or otherwise, fallen upon hard times. Over those 70+ years, our Foundation has been there to provide financial assistance to lawyers and their families, and the recent onset of the Coronavirus crisis has created a demand far greater than any previously experienced.
Throughout the state, from Metro East to Moline, and from Chicago to all points south and west, our colleagues have experienced economic havoc in their practices. Many of our friends practicing in solo and small firms, and in small towns, have found the economic crisis has impacted their income and practice operations, and brought the business portion of their practices to the brink. Understanding our mission, the officers and directors of the IBF acted quickly to address the unprecedented economic crisis experienced by many of our colleagues.
Thanks in part to timely cy pres awards recommended by the law firms of Edelson PC and Zimmerman Law Offices, the Foundation was able to establish a COVID-19 fund in June of 2020 to provide economic assistance to lawyers in need. With an additional matching gift campaign from the Illinois Chapter of the American Academy of Matrimonial Lawyers in May 2021, we are proud to say that over 70 of our friends and colleagues throughout the state received economic awards to enable them to sustain their practices and support their families through these difficult times.
COVID-19 will pass, but sadly, the impacts of the disease on our practices and our families will be with us for some time to come, and as we know after 70 years of providing aid to attorneys in crisis, the needs of our colleagues and their families as they navigate significant mental and physical health challenges will not end with the pandemic. The Illinois Bar Foundation relies on you, our Illinois lawyers, for the funding we need to continue to serve lawyers in need, and to advance our mission of enhancing access to justice throughout the state. While the COVID-19 pandemic has affected us all, it has affected some less than others. The Foundation needs the support of those of you who can help to continue our mission.
For as little as $100 per year (that's less than $9 per month), you can become an IBF Champion and assist us in providing aid to those that need it, whether they be our friends and colleagues in need, or the working poor who need representation and access to our court system. If you are able, pledges are available from $1,000 to $25,000, paid annually over ten years.
You can also simply make a one-time, 100% tax-deductible donation and help one of the many lawyers and organizations the Foundation provides funding to on an annual basis. Perhaps you are in a firm that handles the kind of class action litigation where cy pres awards can be secured. With our statewide commitment to access to justice causes and attorneys in crisis, the Illinois Bar Foundation is an ideal recipient for cy pres awards.
Please consider making a pledge, or donation, in the amount you can. Your gift, along with the gifts of thousands of other lawyers and judges throughout our state, will make a difference to many in need.
Rory T. Weiler
President Elect, Illinois State Bar Association
Board of Directors, Illinois Bar Foundation
Back to Stories & News