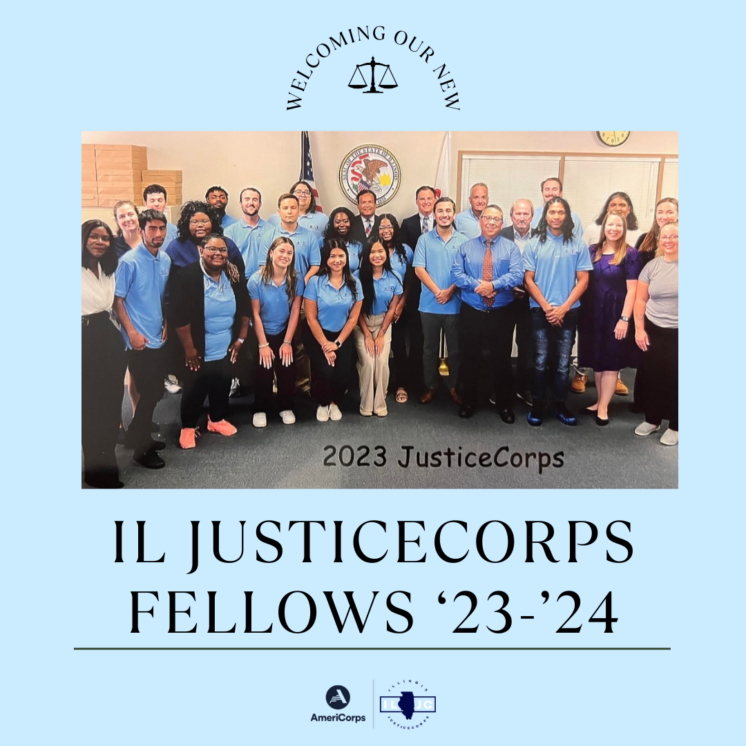 We welcomed our newest cohort of Illinois JusticeCorps Fellows this past August! The 2023-24 cohort was officially sworn in by Judge Jorge Ortiz in the McLean County Courthouse in Bloomington-Normal, where McLean's Chief Justice Casey Costigan also presided at the ceremony.
They completed a 5-day orientation program consisting of 2 virtual training days along with 3 days of in-person training at the McLean County Law & Justice Center. During this orientation week, fellows were introduced to their responsibilities and expectations during their service year, the Court Navigator Network, the ins and outs of Illinois' court system, and to one another!
"For those of us outside Cook County, we'll be working by ourselves in our respective courthouses, so being able to meet everyone in person was an awesome experience. We were able to discuss common goals and build relationships prior to beginning our service years. Sofia and I are volunteering to run ILJC's social media together, so it's great to be able to meet each other before taking on that project." – Kane County Fellow, Dasha Pates
"Since all fellows will be spread out throughout the state, meeting everyone in person was exciting and truly allowed us to bond as a cohort. Going through the training and exchanging ideas was something I believe to be super valuable in developing our support system ahead of our service year. Looking forward to what this service year has to offer, and to future events where the cohort can reunite and share our different experiences in the different courthouses!" – Cook County Fellow, Sofia Perez
Some of the fellows have already volunteered for Chicago's Race Judicata 5K, and soon they will visit a law school forum together. We are excited to see what else this year has in store for our Illinois JusticeCorps fellows!
Back to Stories & News