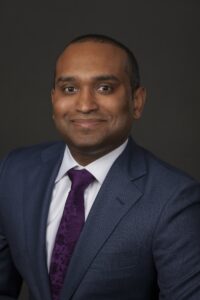 By Cory White
Chair, IBF Champions
Bar year 2021 to 2022 has been a year of great change and excitement for the Illinois Bar Foundation and the communities and the groups that we serve.  Last year we made a strategic decision to re-brand the IBF Fellows to IBF Champions to truly reflect all that they do for the Foundation.  Our fellows have always been the Champions of the Foundation, helping us with the financial support necessary to bring our programs to life.
As a result of the initiative and insight of John Nisivaco (immediate past Champions Chair), we have also launched the Champions Liaisons program. Our Liaisons work with ISBA committee and section council members to promote our Champions program and to encourage new Champions to become a part of the IBF.  Additionally, Liaisons work with the IBF and its staff to engage the entire ISBA community in emphasizing the tremendous good accomplished through the support of our Champions.
As we move into bar year 2022 to 2023, we look forward to seeing everyone in person at our Champions receptions.  We will be expanding the Champions liaisons program to include more liaisons and to offer even more benefits to those individuals who choose to become Champions, including, but not limited to, new Champions swag.  Finally, and most importantly, we will be collecting constant feedback from our Champions and liaisons to help further improve our Champions program.
Thank you to all our new Champions.  Thank you to all our existing Champions who upgraded their Champion level.  See everyone in the new Bar year.
FY2022 NEW CHAMPIONS
| | |
| --- | --- |
| Judy E. Conway | Bronze |
| Gerald T. Donoghue | Bronze |
| Ehrmann Gehlbach Badger & Considine, LLC | Bronze |
| Eric W. Evans | Bronze |
| Daniel J. Heywood | Bronze |
| Robert W. Kaufman | Bronze |
| Elizabeth A. Khalil | Bronze |
| Brian LaCien | Bronze |
| Kenneth A. Matuszewski | Bronze |
| Hon. Margaret Stanton McBride | Bronze |
| Hon. Clare E. McWilliams | Bronze |
| Julie-April Montgomery | Bronze |
| Hon. Martin W. Siemer | Bronze |
| Jean Marie Wenger | Bronze |
| Jason S. Bartell | Silver |
| Ted A. Donner | Silver |
| Thomas A. Jaconetty | Silver |
| Evan W. Schanerberger | Silver |
| Brion W. Doherty | Gold |
| Jessica N. Hudspeth | Gold |
| Michelle D. Porro | Gold |
| Joshua G. Rohrscheib | Gold |
| Diana C. Servos | Gold |
FY2022 UPGRADED CHAMPIONS
| | |
| --- | --- |
| Karen A. Enright | Silver |
| John J. Johnston | Silver |
| Theresa B. Kulat | Silver |
| Lawrence A. Manson | Silver |
| Jeffrey D. Richardson | Silver |
| George L. Schoenbeck, III | Silver |
| Rachael N. Toft | Silver |
| Erin M. Wilson | Silver |
| Anita M. DeCarlo | Gold |
| Nancy G. Easum | Gold |
| Ava George Stewart | Gold |
| Wesley A. Gozia | Gold |
| Jenifer L. Johnson | Gold |
| Angel M. Traub | Gold |
| Richard L. Turner, Jr. | Gold |
| Angel W. Wawrzynek | Gold |
| Robert O. Ackley | Diamond |
| Edward J. Jarot, Jr. | Diamond |
| Cory White | Diamond |
| James M. Lestikow | Platinum |
Back to Stories & News