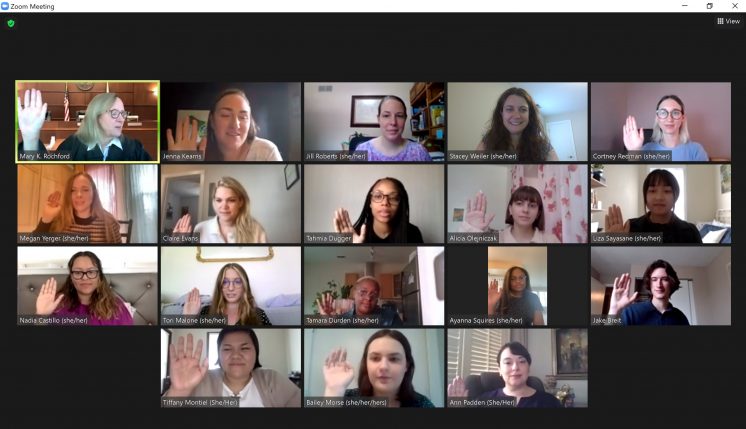 The Illinois Bar Foundation's Illinois JusticeCorps program welcomed the newest cohort of Illinois JusticeCorps Fellows on August 16, 2021 and they were sworn in by the Honorable Mary K. Rochford, Appellate Court Justice for the 1st District and Chair of the Illinois Supreme Court Commission on Access to Justice.
Illinois JusticeCorps Fellows all participated in a week-long orientation as they embark on their year-long AmeriCorps commitment assisting people without lawyers in ten Illinois counties. During their year of volunteerism, these individuals are the team leaders for the program at their respective courthouses, and while they do not provide legal advice, they provide assistance to people without lawyers by helping them navigate the courthouse, access legal and self-help resources, and better understand legal procedures.
Thank you to all our 2021-2021 Illinois JusticeCorps Fellows:
Champaign County (6th Judicial Circuit) –
Tamara Durden
Cook County (Circuit Court of Cook County – Daley Center) –
Nadia Castillo
Claire Evans
Elizabeth Sayasane
Megan Yerger
Kane County (16th Judicial Circuit)
Tiffany Montiel
Kankakee County (21st Judicial Circuit)
Ann Padden
Knox County (9th Judicial Circuit)
Alicia Olejniczak
Lake County (19th Judicial Circuit)
Victoria Malone
Madison County (3rd Judicial Circuit)
Bailey Morse
McLean County (11th Judicial Circuit)
Jake Breit
Will County (12th Judicial Circuit)
Ayanna Squires
Winnebago County (17th Judicial Circuit)
Tahmia Dugger
Illinois JusticeCorps is an innovative AmeriCorps program administered by the Illinois Bar Foundation as part of a unique collaboration between the IBF, The Chicago Bar Foundation and The Illinois Supreme Court Commission on Access to Justice. It is made possible with support and funding from the Serve Illinois Commission and the AmeriCorps Agency.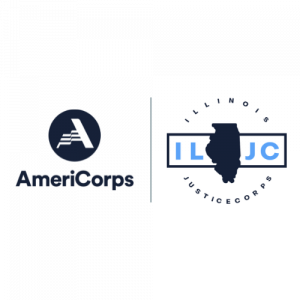 Back to Stories & News