The Illinois Judges Foundation and the Illinois Bar Foundation are proud to honor six leaders in the legal profession at this year's 2023 Legal Luminary Reception. The Legal Luminary Awards are presented to members of the Illinois bench and bar whose exemplary careers have set a standard to which we can all aspire. Honorees will be celebrated for their career-long dedication to advancing the profession and the justice system, as well as for their countless contributions to the Illinois legal community throughout their years of service. Proceeds of this event will benefit the educational, scholarship, legal aid and lawyer assistance programs funded by the IJF and IBF across the State.
We are proud to honor these six luminaries this year:
2020 Luminaries:
Hon. Andreas Matoesian, Ret., Circuit Court of Madison County
Hon. Ilana Diamond Rovner, United States Court of Appeals for the Seventh Circuit
Richard L. Thies, Webber & Thies, P.C. (awarded posthumously)
2023 Luminaries:
Hon. Rita B. Garman, Ret., Illinois Supreme Court
James D. Montgomery, James D. Montgomery & Associates
Hon. Milton S. Wharton, Ret., Illinois Fifth District Appellate Court
---
Hon. Andreas Matoesian, Ret.
Circuit Court of Madison County
Judge Andreas Matoesian, Ret. was born in Granite City, Illinois, the fourth of five children to Armenian immigrants who settled in Granite City after emigrating to the U.S. in the early part of the 20th Century following the Armenian Genocide. His father was a barber and his mother was a homemaker.
Judge Matoesian attended schools in Granite City and graduated from Granite City High School in 1955. He played center on the football team and was a member of the wrestling team, where he twice reached the State tournament. He attended Illinois State University, the University of Illinois, and Southern Illinois University for his undergraduate studies. He also attended the Peoria Barber College and worked as a barber in his father's barber shop in Granite City. He still holds a current Illinois barber's license, and many of his friends, colleagues, and family were regular "customers" of his "lower level barber shop."
He graduated from Washington University School of Law in 1964 and began private practice in East St. Louis at the firm then known as Kassly Weihl Carr & Bone. In 1965 he was asked to apply for a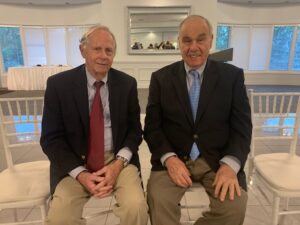 Magistrate Judge position in Madison County by the late Bill Brandt and Lance Callis, and was sworn in, along with his soon-to-be lifelong friend, Appellate Court Justice Thomas Welch, in November 1965. He was later appointed Associate Judge following the restructuring of the Illinois Courts by the 1970 Illinois Constitution. He was selected Circuit Judge in 1980, and served continuously as Circuit Judge until 2019. He was retained by the voters six times, from 1986-2016.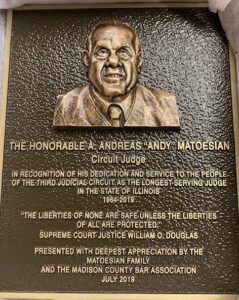 Over his many years on the bench, Judge Matoesian presided over virtually every type of case in the lllinois judicial system, from civil to criminal, f
amily to probate. Judge Matoesian served for many years on the criminal bench and presided over several death penalty cases. In one of his most notable cases, he presided over the murder trial of Paula Sims, the mother who was convicted in 1989 in connection with the death of her infant daughter.
Judge Matoesian has been married since 1959 to Julia Marifian Matoesian, a schoolteacher and later Assistant States' Attorney. He is the father of two daughters, the late Georgea Matoesian and attorney Jane Matoesian, who is married to Dr. Al Van Amburg of St. Louis. Over the years, Judge Matoesian has been active with many hobbies, most notably woodworking, which he took up in high school. A few of the items he has made are pens, nutcrackers, baskets, and bottle stoppers. He distributed many of these items to his jurors while others have traveled the world, from Tiananmen Square to Andy Rooney. But he is probably most well-known for his gavels, with one article describing him as "dispensing justice (and gavels) in Madison County." Many judges throughout the State of Illinois own his one-of-a-kind creations, which have also made it to the Notorious RBG at the U.S. Supreme Court.
---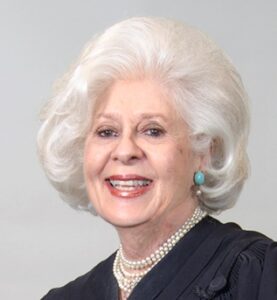 Hon. Ilana D. Rovner
U.S. Court of Appeals for the 7th Circuit
Judge Ilana Diamond Rovner  was appointed to the United States Court of Appeals for the Seventh Circuit in 1992, becoming the first woman on that court in its then 101-year history. Born in Riga, Latvia and raised in Philadelphia, she attended Bryn Mawr College and studied law at King's College-University of London, Georgetown University, and Chicago-Kent College of Law.
Following a term as law clerk to the late James B. Parsons, Judge of the Northern District of Illinois, she joined the United States Attorney's Office in Chicago in 1973. There, she became the first woman supervisor in the history of the office, and as Chief of the Public Protection Unit, was responsible for all civil rights, consumer fraud and voter fraud litigation in the Northern District. She served as one of the chief trial attorneys in both of the landmark United States v. City of Chicago employment discrimination cases.
In 1977, she left the U.S. Attorney's Office to become Deputy Governor and legal counsel to Governor James R. Thompson of Illinois. During her time in that office, she wrote the governor's Executive Order banning sexual harassment in the workplace, and oversaw the creation of the Governor's Office for Interagency Cooperation and the new Department of Human Rights. She was appointed to the United States District Court for the Northern District of Illinois in 1984, where she served until her elevation to the United States Court of Appeals in 1992.
---
Richard L. Thies (awarded posthumously)
Webber & Thies, P.C.
The breadth of Richard Thies's practice mirrored the wide range of specialized legal services Webber & Thies provides to its clients. From the beginning of his practice, he gave personal advice and consultation to individual clients in areas such as financial planning, estates, trusts, wills and personal business affairs.
Mr. Thies has represented and created sole proprietorships, partnerships and corporations, as well as not-for-profit and tax-exempt organizations and trusts. In the field of labor relations, he negotiated labor management contracts, handled grievance hearings, NLRB representation cases and employment discrimination cases.
His litigation experience was extensive in the fields of complex commercial litigation, personal injury and family law. In the area of communications law, he represented clients in libel and slander cases, and in cases involving first amendment issues. Mr. Thies has practiced extensively in the area of banking law, including formation of banks, bank purchases and sales, and other bank operation matters. He represented clients in radio station purchases and sales, newspaper purchases and sales, and the day-to-day legal representation of newspapers and radio stations, as well as cable television entities.
In the field of real estate law, he represented developers of a number of subdivisions, condominiums and shopping centers. He practiced health care law, including the representation of research entities, medical practitioners and medical support service entities. His practice in environmental law matters included underground and above ground storage tank cases, environmental surveys, and matters involving remedial action and clean-up. Internationally, he had negotiated in the Peoples Republic of China on behalf of American clients conducting business in China.
Mr. Thies received his B.A. in History at the University of Illinois in 1953 and his J.D. at the University of Illinois College of Law in 1955. That same year, he was admitted to the Illinois Bar to later be admitted to the U.S. District Court, Central District of Illinois in 1958; the Supreme Court of the United States in 1987; the Seventh Federal Circuit in 1992; and acted as Captain in the U.S. Air Force Active Duty from 1956-1958 in the Judge Advocate General's Department.
Mr. Thies was a member of the Illinois State Bar Association (President, 1986-1987), American Bar Association (Illinois State Delegate; Board of Governors; House of Delegates; Chair, Senior Lawyer Division; American Bar Foundation Board; Chair, Fellows of the American Bar Foundation; Board and Chair, American Bar Association Retirement Funds), American Law Institute, Bar Association of the Seventh Federal Circuit, Champaign County Bar Association, Chicago Bar Association, Illinois Trial Lawyers Association, is one of the three original incorporators of Attorney's Title Guaranty Fund of Illinois, and is a co-founder of the Bar Association of the Central and Southern Federal Districts of Illinois. In 2005, Mr. Thies was the recipient of the Illinois State Bar Associations highest honor: The Award of Merit. Ten years later, he received the prestigious "Lincoln the Lawyer" Award from The Abraham Lincoln Association.
Mr. Thies was a member of the President's Council of the University of Illinois Foundation; Dean's Club of the University of Illinois College of Law; life member of the University of Illinois Alumni Association, and on four occasions had served on the Alumni Association's Trustee Selection Committee; service as President of the Champaign-Urbana Kiwanis Club and the Urbana Association of Commerce; and Chairman of the Citizens Advisory Board of the Urbana School Board and the Salvation Army Advisory Board. He is a past member of Urbana Park Board, the Champaign-Urbana Symphony Board, and the Boards of the National Academy of Arts and the Champaign-Urbana Urban League. Mr. Thies was also an active member and elder of the First Presbyterian Church of Urbana.
---
Hon. Rita B. Garman, Ret.,
Illinois Supreme Court
Rita Bell Garman was born in Aurora, Illinois, on November 19, 1943, the youngest of three children of Dr. Sheldon Bell and Ellen Bell. She grew up in Oswego, where Dr. Bell had a dental practice and Mrs. Bell, a homemaker, also served as his business manager. She recalls that her parents encouraged all three children equally and that her father, in particular, "saw absolutely no reason why his daughters couldn't achieve as much as his son."
Rita Bell was valedictorian of her high school class, and attended the University of Illinois. Although she was interested in a career in law, her undergraduate advisor steered her away from enrolling in a joint degree program in law and commerce, suggesting that as a young woman, she might not be admitted to the law school portion of the program. Thus, she majored in economics and graduated in 1965 with highest honors. While at the University of Illinois, she met Gill Garman of Urbana.
Both attended the University of Iowa College of Law, where she was one of only eight women in the entering class. She recalls some professors being overtly hostile to women law students, remarking that they were taking up spaces that belonged to men who would need to support their families, or accusing the women of attending law school only to meet a future husband. Rita, however, had already met her future husband. She and Gill married after their second year of law school.
They graduated in 1968 and passed the Illinois bar examination. When they were sworn in on the same day, their photograph appeared in the Illinois Bar Journal with the caption "Mr. and Mrs. Gill Garman." Dr. Bell was perhaps even more perturbed than his daughter that she was not identified as "Rita Bell Garman." The couple moved to Danville, Illinois, where Gill began the private practice of law, but jobs for a young woman lawyer were scarce in 1968. She was told by one firm that "no one wants to talk to a woman. No business person is going to come in here and share business issues with a woman. We don't know how we could possibly use you in this firm."
An opportunity did arise when the attorney who had been running the local legal aid office retired and she was offered a temporary position at the Vermilion County Legal Aid Society – just to "keep the doors open." "That's how I learned to practice law," she recalls. "The clients of Legal Aid didn't care that I was young, and they certainly didn't care that I was a woman. They were happy to see me." A year later, she was hired to handle family law cases in the State's Attorney's Office, and, in 1973, she joined the firm of Sebat, Swanson, Banks, Lessen & Garman.
When an associate judge position in Vermilion County became open in 1974, she was encouraged by several judges and colleagues to apply. When she was appointed associate judge, she became the first female judge in the Fifth Judicial Circuit – the first time, but not the last, that she would break new ground. After twelve years as an associate judge, she was elected Circuit Judge in 1986, again being the first woman to hold the position. She remained on the circuit court until 1995 and was Presiding Judge in Vermilion County for most of her tenure. Upon the retirement of Justice Carl Lund, Judge Rita Garman was assigned to the Fourth District Appellate Court and was then elected in 1996 to her own term. She was the Fourth District's first female justice.
When Justice Garman was appointed to the Illinois Supreme Court in 2001 to fill the vacancy created by the retirement of Justice Ben Miller, she was not the first woman in the room. Justice MaryAnn McMorrow had joined the court in 1992. Garman was elected to a ten-year term on the court in 2002 and retained for a second term in 2012. She served as Chief Justice from 2013-2016, becoming Illinois' second woman Chief Justice, after Justice McMorrow. Following her installation ceremony, the new Chief Justice remarked: "The courts are where the people meet the promise of this nation. The four goals that I have set out – civility and professionalism, prompt decision-making, increased use of technology, and judicial education – all serve to make our courts more able to meet that promise."[8]
Garman has served at every level of the Illinois judiciary and is the first chief justice to have done so: associate judge, circuit judge, presiding circuit judge, appellate justice, presiding appellate justice, supreme court justice, and chief justice. She is the longest serving judge in Illinois and the longest serving female judge.
Shortly after her arrival at the Supreme Court, she proposed the establishment of a Special Committee on Child Custody Issues to give priority to cases involving the custody, adoption, abuse and neglect of children, and the rights of parents. As a result of the committee's efforts, the Court has also adopted new procedural rules to expedite appellate review of such cases. While running for retention in 2012, she remarked that "Early in my tenure on the Supreme Court, I successfully urged the court to study and address the handling of juvenile cases in our court system. . . . We cannot afford to allow a child to grow up while the courts deliberate these issues."
During her tenure as Chief Justice, the Court established the Illinois Judicial College to elevate the professional education opportunities for Illinois judges and staff members of the court system; implemented mandatory electronic filing of court documents to reduce costs and increase efficiency of the court system; completed a pilot project on the use of media cameras in courtrooms and extended the program throughout the state; and created uniform standards and a certification process for problem-solving courts to bring uniformity, accountability, and administrative oversights to drug courts, mental health courts, and veterans courts throughout the state.
Also during her tenure as Chief Justice, Justice Garman and her colleagues twice invited the governor and the entire state legislature to attend special evening sessions of oral arguments. For the first time in over a century, the Supreme Court held proceedings in the evening to enable members of the other two branches of state government to, in her words, have "a window into the work that the Court performs for the people we all serve."
Of the many opinions she has authored, two milestone cases – one civil and one criminal – illustrate Justice Garman's scholarly, analytical, and disciplined approach to judicial decision making. The Illinois Supreme Court initially affirmed the conviction of Roy Caballes for cannabis trafficking, with Justice Garman and two other justices dissenting. During a routine traffic stop for speeding, a dog sniff of the vehicle had revealed the presence of marijuana. Although the sniff did not prolong the duration of the stop, the majority held that the canine sniff was not justified and that it impermissibly broadened the scope of the traffic stop, turning it into a drug investigation and violating the fourth amendment to the United States Constitution. The State of Illinois appealed to the United States Supreme Court, which held that the dog sniff was not a "search" and, thus, did not violate the fourth amendment.
When the case returned to the Illinois Supreme Court in 2006, Justice Garman wrote the opinion in People v. Caballes, which answered the additional question – even if the sniff was permitted by the U.S. Constitution, did it nevertheless violate the Illinois Constitution of 1970? The Court ruled that when a provision in the state constitution is virtually identical to the corresponding provision in the federal constitution, the two will be interpreted in "lockstep" unless the debates and the committee reports of the state constitutional convention indicate that the particular provision of our constitution was intended to be construed differently. Thus, the dog sniff was not a prohibited search and the defendant's state constitutional rights were not violated. His conviction was, therefore, affirmed.
In 2009, Justice Garman authored the Illinois Supreme Court's unanimous opinion in In re Estate of Feinberg, a case that received national press coverage. Dr. Feinberg, a dentist, had created an estate plan that would have benefited his grandchildren if they married within the Jewish faith, but would have excluded them if they married outside the faith. In litigation among the surviving family members, the circuit court found the restriction unenforceable on the basis that it violated public policy by discriminating on the basis of religion, and the appellate court affirmed.  The Supreme Court reversed the judgment and found the so-called "Jewish clause" enforceable because an individual has the freedom to dispose of his property as he chooses.
Justice Garman is a member of the Vermilion County Bar Association, the Illinois State Bar Association, the Iowa State Bar Association, the Lincoln-Douglas Inn of Court, and the Illinois Judges Association. A champion of legal aid services and a strong advocate of pro bono service, she has received numerous awards including the Illinois Judges Association Lifetime Achievement Award in 2007, the Person of the Year Award from Chicago Lawyer Magazine in 2013, and the Myra Bradwell Award from the Women's Bar Association of Illinois in 2016. Most notably, in March 2017, the Vermilion County Board voted unanimously to rename the county courthouse the "Rita B. Garman Vermilion County Courthouse" in her honor, and in April 2017, the Champaign County Bar Association named her a Pillar of the Profession.
Rita and Gill Garman had two children, Andrew and Sara, and four grandchildren. He passed away in 2014 after a long struggle with kidney disease.
---
James D. Montgomery
James D. Montgomery & Associates

James D. Montgomery was born in Louise, Mississippi on February 17, 1932 to Mildred and James Montgomery. Montgomery attended and graduated from Wendell Phillips High School in Chicago, IL and received his B.A. from the University of Illinois in Champaign at Urbana. He went onto the university's College of Law and earned a J.D. in 1956. James D. Montgomery is known as a skilled litigator of civil rights and criminal cases, including personal injury and malpractice cases.
In 1956, Montgomery began his legal career with the law firm of Rogers, Strayhorn & Harth, later becoming an Assistant U.S. Attorney for the Northern District of Illinois. He pursued private practice, founding James D. Montgomery & Associates, Ltd. where he was involved in famous civil rights cases, including Hampton v. Hanrahan, a case where the Black Panther chairman, Fred Hampton and Rockford Black Panther leader Mark Clark were murdered during a Chicago police raid.
Montgomery became the first and only African American corporation counsel for the City of Chicago under Mayor Harold Washington. Later in 2000, Montgomery became a managing partner in the law firm of Cochran, Cherry, Givens, Smith and Montgomery, handling several high-profile cases.
Montgomery is married to Pauline Montgomery and has six adult children: Linda, James, Michelle, Lisa, Jewel and Jilian.
---
Hon. Milton S. Wharton, Ret.
Illinois Fifth District Appellate Court
Justice Milton S. Wharton is a graduate of Lincoln Sr. High School in East St. Louis, IL, Southern Illinois University at Edwardsville (SIUE), and De Paul University School of Law '74.  He is a life-member of Kappa Alpha Psi Fraternity, Inc.
Justice Wharton was appointed an associate circuit judge for the Twentieth Judicial Circuit in 1976 and elected a circuit judge in 1988. He served many years as the presiding judge of the St. Clair County Juvenile and the Criminal Courts where he also presided over several high-profile cases and in 2012 retired after 36 years on the bench. In 2019 he was assigned as an appellate court justice for the Fifth District Appellate Court by the Illinois Supreme Court  to fill a one-year vacancy on the court and was thereafter reassigned to a two-year term to fill another vacancy. He currently serves as the Judge William L. Beatty Jurist in Residence at the Southern Illinois University School of Law and is a member of the Illinois Supreme Court Committee on Equality.
Judge Wharton has a long record of service in legal, civic, and community endeavors.  He is a founder of the Court Appointed Special Advocate program (CASA) of Southwestern Illinois, which protects the rights of abused and neglected children, and Racial Harmony which is dedicated to community diversity and cooperation.  He was elected to the Illinois State Bar Association (ISBA) Assembly, chaired several ISBA committees, served as an Illinois Bar Foundation Board member, and is a Past President of the St. Clair County Bar Association.  He participated for many years in the American Bar Association- Judicial Intern Opportunity Program providing opportunities to members of groups "traditionally underrepresented in the profession." His contributions have been recognized by numerous awards and accolades including the Whitney M. Young, Jr. Service Award of the Boy Scouts of America, Pro Ecclesia Et Pontifice from (Saint) Pope John Paul II, Service Pro Christo from the National Black Catholic Conference, Alumnus of the Year-SIUE, East St. Louis Branch- NAACP Award, ISBA-Special Recognition Award for Access to Justice, and he has been named a Legend in the legal community by the St. Louis Argus Newspaper.
He is married to retired attorney Patricia Wharton and they have one daughter, Bernadette Wharton-Hawthorne, MD.
To quote Justice Wharton, "In the beautiful diversity and inspiration of freedom to the world of America, we have amalgamated representatives of almost every violent conflict witnessed on Earth. Essential is a respected and capable legal justice system for orderly and peaceful dispute resolution, without which there might be anarchy."
---
Back to Stories & News