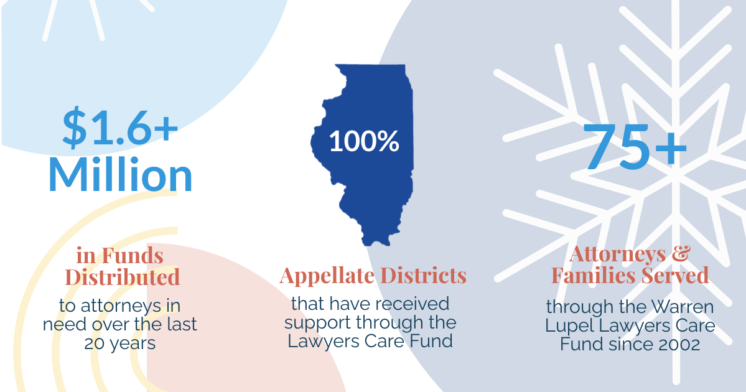 The holidays are a time of gratitude, reflection and togetherness.  As we approach the end of another year, it is important to all of us at the IBF to give thanks to our supporters, reflect on our mission and contemplate ways to expand  the work we do to aid lawyers in crisis and those seeking legal aid around the state.  It is my honor to share with you here one story of a lawyer and his family who the IBF has been privileged to serve through the generous support from our donors.
Bob, one of our IBF Warren Lupel Lawyers Care Fund recipients, practiced as a Chicago attorney for over 30 years before being diagnosed with a rare and aggressive form of early onset Alzheimer's.  This was a devastating diagnosis for Bob, his wife Suzy and their four young adult children.  Suzy applied to the IBF's Lawyers Care Fund Committee for assistance with their mounting medical bills and Bob's rapidly increasing need for in-home care.  We are grateful to Suzy for allowing us to share her family's journey:

First and foremost, I would like to thank the Illinois Bar Foundation for your compassion and your generosity. Our family could truly never adequately express our gratitude for providing us with consistent and enormously impactful financial support. Without your help, we would never be able to cover our expenses. Bob was the breadwinner in our family, and when his illness not only stole his ability to continue to provide for us but also eradicated our savings, we had very real concerns about our survival. Though we dramatically downsized our lifestyle, we still were without adequate means for staying afloat. The IBF has been our lifeline and our deeply felt gratitude is renewed in a very real way each and every month.
Your emotional support has been invaluable as well. Bob's identity as a lawyer, both for himself and for our family, was stolen from him as well. Being a lawyer meant everything to him. His father was a lawyer and from the time he was a child, he knew that he wanted to follow in his dad's footsteps. His parents and siblings, plus of course the kids and I, were so proud of his professional accomplishments. When he lost his job following his diagnosis, he and all of us were gutted emotionally. Receiving the support from the Lawyers Care Fund has felt like a wonderful acknowledgment of his identity as a lawyer and that has meant the world to us.
Unfortunately, Bob's physical and mental condition have worsened considerably in the past year. He suffered two massive seizures in the winter and had to endure a grueling brain surgery. He almost passed away twice and in fact received last rites on both occasions. Though thankfully he recovered enough to return home, with constant care, these episodes progressed his illness considerably. The caregiver, the kids and I are able to care for him at home–thank goodness–but he struggles with understanding the world and sadly knowing who we all are at times. We just love him so much and are trying to sufficiently manage our own grief so that we can keep the atmosphere here cheery.
Thank you again for so generously and consistently providing us with the support we need to keep going. Your compassion is a true bright light during this very sad time.
With every good wish and unending gratitude,
– Suzy M.
As any of our Lawyers Care Fund Committee members will attest, our work providing aid to our colleagues and their families during the most difficult time of their lives is all at once heartbreakingly difficult, deeply rewarding, and incredibly important to those we are able to assist. If you share in the IBF's vision to be a statewide lifeline for our colleagues struggling with day-to-day care and essentials, we hope you will consider making a donation to the Illinois Bar Foundation this holiday season.
On behalf of the IBF, Bob, Suzy and all the other individuals and families we assist, thank you, and happy holidays!

Sandra Crawford
President, Illinois Bar Foundation
Back to Stories & News