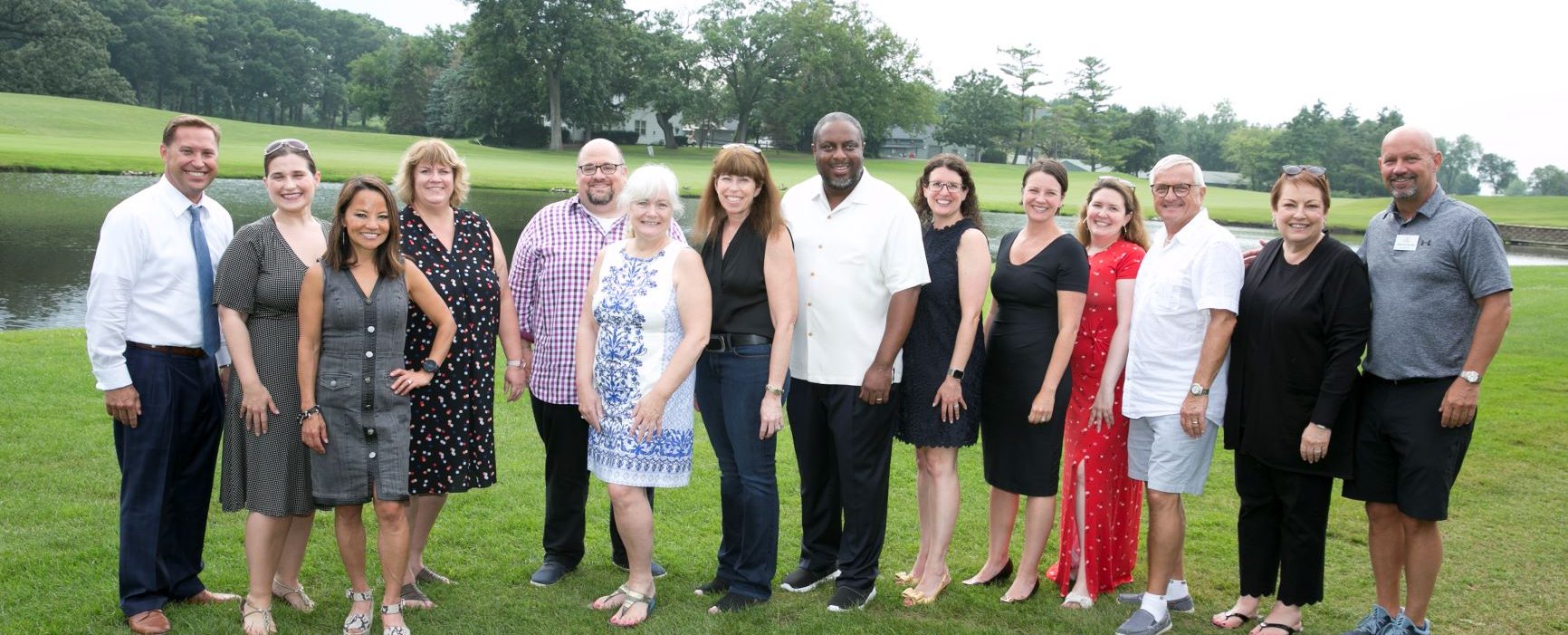 As the weather grows colder and closer to the holidays, we're reflecting on a year's worth of  events with our colleagues, Champions, and Board members at the Illinois Bar Foundation. The important work we do to provide quality legal services to those in need and support lawyers and their families in times of crisis would not be possible without the caring individuals who've made these events a success.
First-Ever Virtual Author's Q&A
In April, award winning crime novelist, the Honorable David Ellis, and New York Times best-selling author, Christie Tate, joined us as we discussed their new books and the secrets to their success. We were pleased to have John McNally, Managing Editor of Chicago Lawyer Magazine, also join us as our moderator for the evening. While this was not our first virtual event, we were certainly thrilled to welcome the active participation of our attendees to this new event!
Lawyers Rock Golf Classic
This year, we were thankful to host some in-person events while ensuring the health and safety of our attendees by gathering outdoors. We hosted our first Lawyers Rock Golf Classic at Cog Hill Golf & Country Club in July. After 18 holes with our colleagues, we cheered on Joe Bisceglia, The Thornes, and Flood Waters for the Lawyers Rock Battle of the Bands portion in the evening. Thank you to the many firms and Champions who helped sponsor this particular event, so that we could enjoy each other's company face to face this year.
Midlothian Fellows Reception
Later in August, we were delighted to host our first Fellows Reception since 2019, honoring David B. Sosin, ISBA President 2019-20 and Distinguished Fellows Hon. Dennis J. Burke, Ret. and Edward J. Burt at the Midlothian Country Club. As our last in-person event for the year, it was incredible to see the support from so many of our colleagues and Champions at our cocktail reception before presenting awards to our honorees.
True Crime Authors' Q&A
Lastly, it was wonderful to host another True Crime Authors' Q&A with award-winning true crime authors, Gary V. Johnson and Jeffrey Dean Doty. We discussed their intimate experiences with some of Illinois' most notorious murder cases. It was a pleasure to have Richard L. Turner of Turner & Sackett Law Offices with us as well as our moderator for the evening.
Looking Forward to 2022
October usually marks the Illinois Bar Foundation's Annual Gala. The health and safety of all our attendees is our utmost concern due to the ongoing spread of the COVID-19 pandemic. With this in mind, the Illinois Bar Foundation made a conscious decision to postpone our in-person Annual Gala to May 20, 2022 at the Four Seasons Hotel. We look forward to sharing the evening with you to honor Tim Eaton from Taft Stettinius & Hollister with the Distinguished Award for Excellence in the Spring! If you are interested in sponsoring or securing your ticket today, please contact Jessie Reeves at jreeves@illinoisbarfoundation.org.
We've been thankful this year to continue creating opportunities for us to gather virtually and in person. The contributions from our event supporters and Champions truly helps us to provide quality legal services to low-income individuals throughout Illinois who would otherwise not have access to civil legal aid. These contributions also support the Warren Lupel Lawyers Care Fund, which provides financial assistance to lawyers who have fallen on hard times. If you're interested in supporting the work of the Illinois Bar Foundation all year long, please consider becoming a Champion or upgrading your pledge here.
Back to Stories & News