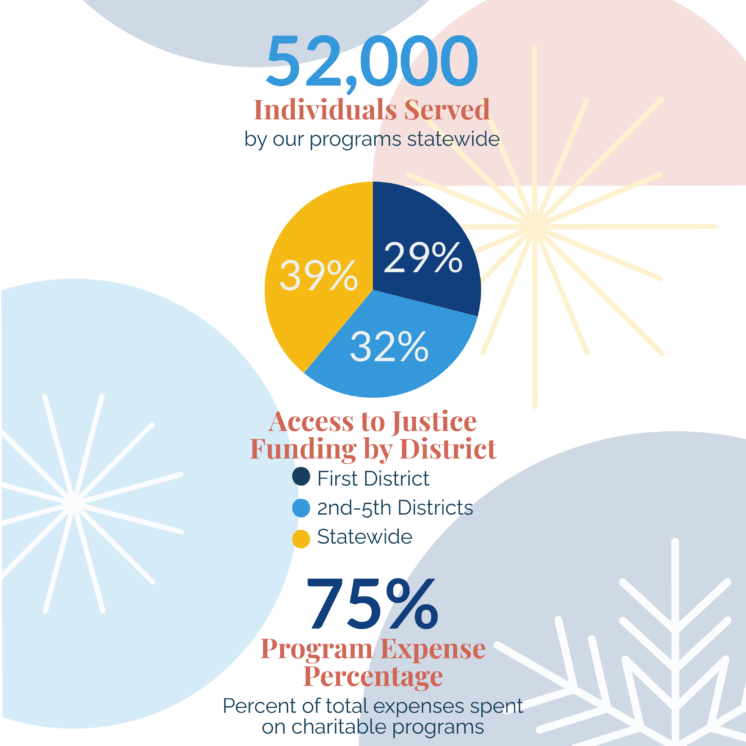 The last two years have been hard on all of us…some certainly more than others. In a time where many are divided, you have stood by the IBF, ensuring we are able to provide the funding and services that our mission calls upon us to do, and we thank you.  However, our job is not done; in fact, it is only beginning.
While the pandemic has been characterized as a health crisis, it is sadly so much more. The ripple effect of challenges created over the last two years will affect many of our neighbors and their families for decades to come. Basic needs such as housing, safety, education and accessibility to legal resources have all been threatened, but the IBF has been and will continue to be a critical link of support for organizations serving Illinois citizens as they navigate these very real challenges. Through our Access to Justice Grants program the IBF provides much-needed funding for 33 organizations across the state working with vulnerable populations, to ensure they receive the legal support and resources they so desperately need.
"Ongoing support from the Illinois Bar Foundation has allowed the North Suburban Legal Aid Clinic to create meaningful change in the lives of low-income residents in our community. We have provided legal services that allowed a family to avoid unnecessary eviction, a survivor to have legal protections against an abusive partner, and an immigrant to pursue a pathway to citizenship."
– Susan B. Shulman, Executive Director, North Suburban Legal Aid Clinic
Without the support of the IBF, many of these people-serving organizations would lack the funding to survive especially challenging times like these.  It is because of generous donors like you that help make that possible.  The IBF champions these organizations to serve vulnerable families and you are the heroes that make it possible.
CALLS TO ILLINOIS' DOMESTIC VIOLENCE HOTLINE INCREASED BY 32 PERCENT AND TEXTED MESSAGES INCREASED BY 3,000 PERCENT SINCE THE STAY-AT-HOME ORDER LIFTED IN MAY OF 2020
"The Illinois Bar Foundation's support has been phenomenal. The domestic violence survivors we serve in our rural community cannot afford legal representation to keep themselves and their children safe. Without the friendship of the Illinois Bar Foundation, offenders have more power than survivors in the courtroom. We are proud to say the Illinois Bar Foundation agrees that is unacceptable."
– Anne Heim, Program Director, Riverview Center
MORE THAN 120,000 ILLINOISANS STAND TO BE UNHOUSED AS A RESULT OF THE EVICTION MORATORIUM ENDING
"With support from IBF, LCBH has been able to assist more Chicago-area renters in need with integrated legal and supportive services. Flexible funding from IBF allows us to be nimble and responsive in meeting client needs. Thanks to IBF, we are helping more renters access justice and navigate housing instability during the pandemic."
– Mark Swartz, Executive Director, Lawyers' Committee for Better Housing
AS MANY AS 25% OF SPECIAL EDUCATION STUDENTS ACROSS THE STATE OF ILLINOIS HAVE EXPERIENCED DELAYS IN RE-EVALUATIONS OF SERVICES DURING THE PANDEMIC, DELAYING ACCESS TO PROPER EDUCATION
"The Illinois Bar Foundation's grant award allowed our Special Education Rights Clinic to address the vast unmet legal needs of even more families with children in special education. With support from IBF, the Clinic is able to serve as a comprehensive resource center for brief legal advice, representation, education, training, and support for families all over Illinois, regardless of income level, immigration status, criminal record, or school district.
– Zena Naiditch, President & CEO, Equip for Equality
Today we ask you for your commitment to help the neighbors and families of Illinois get the support and legal resources they need to survive and thrive during this difficult time in our history.  Your donation can make the difference for a family facing domestic violence or help keep a roof over a family's head during the cold winter months.
On behalf of the Board of Directors and the many individuals we serve, thank you for giving back to our neighbors in need this holiday season.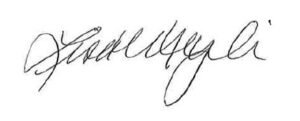 Lisa M. Nyuli
President, Illinois Bar Foundation
Back to Stories & News