To our IBF Fellows,
We are excited to announce some changes to our longstanding Fellows program this year, beginning with a change of name. Going forward, the Fellows of the Illinois Bar Foundation will be known as the Champions of the Illinois Bar Foundation, a change selected to better highlight our supporters' dedication to and advocacy for the work of the Foundation and all that our mission stands for. Your current pledge commitment and all existing perks will not change, and in all printed materials moving forward, you will be listed as a Champion at the same level as your existing Fellows pledge.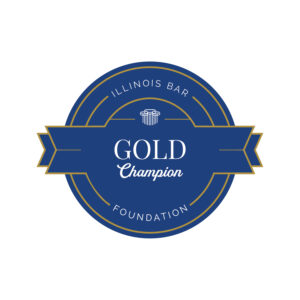 Additionally, we are proud to offer our current Champions new digital badges that can be used on your website or email signatures to display your support of the Illinois Bar Foundation. To access your badge, please see the email sent to our Champions on January 13. If you need assistance, please contact Jessie Reeves at jreeves@illinoisbarfoundation.org or 312-920-4681.
As always, you will be listed as a Champion on our website, and Champions will also continue to receive ribbons displaying their Champions status at ISBA Midyear and Annual meetings when in-person meetings resume. We will also highlight new and upgraded Champions in publications such as the Illinois Bar Journal and Chicago Daily Law Bulletin on a regular basis, as well as at ISBA Assembly meetings.
Your continued support ensures funding to help those without attorneys receive the legal assistance they need, support attorneys and their families who have fallen on hard times, and provide navigational and procedural guidance inside courthouses across the state. If you are interested in upgrading your existing Champions pledge, you may do so here. All contributions previously made on your current pledge count toward your upgraded level, making an upgrade less costly to you, but more impactful for those in need of our support.
On behalf of the Foundation, I thank you again for your generosity. Your sustained commitment to our dual causes of providing meaningful access to the civil justice system and helping lawyers in need is proof of our profession's dedication to service.
Cory White
Chair, Champions of the Illinois Bar Foundation
Back to Stories & News